Since I am mid move right now, I thought I would fill this emptiness with round two of "Things I Love". This is where I try to shout from the rooftops about products I love and can't seem to live without, and let you in on the secrets! See my last post here. Here are my newest obsessions:
1. Josie Maran Argan Oil Cleanser – I have been a long time user of Spectro Gel for a face cleanser, but my skin has always been on the dry side. In my quest to start using more natural products, and start taking better care of my skin, I found this product. This cleanser is AMAZING. It removes all my makeup and leaves my skin feeling like silk. You can use it regardless of your skin type, it's not just for dry skin. Don't let the 'oil' aspect of the cleanser scare you away.


2. MD Moms BabySilk Babysafe Sunscreen Towelettes – MD Moms was kind enough to send some samples to a few of us during BlogHer, and in my bag I received this product. I instantly and wholeheartedly fell in love with these. Marley has Jason's skin exactly, which means she never burns, and because of that I tend to not apply sunscreen as much as I should. (Bad mom alert!) This product makes it incredibly easy, quick and tantrum free to apply sunscreen to a excited toddler. Just a swipe with the pre-moistnened towelette and you are good to go. But this is not my favorite aspect of them: They are non-chemical and contain no phthalates, lanolin, mineral oil, petroleum or waxes. AMAZING.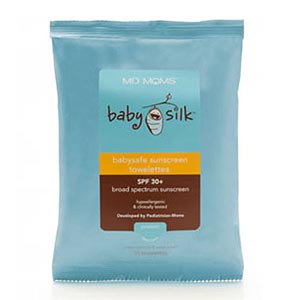 3. Lavanilla The Healthy Deodorant (Vanilla Coconut) – Once again, I found this product on my quest for a chemical free life and I wonder how I functioned without it. This doedorent is free of Parabens, Sulfates, Synthetic Dyes, Petro-Chemicals, Phthalates, aluminum and mineral oils. I can run around all day in the blistering heat and be confident that I still smell like a respectable lady AND I am treating my body right. Score.


4. Abba Moisture Shampoo and Conditioner – My new hair saviour. As you may or may not know, I have over 8 years of hairstyling experience, and I am a hardcore believer in a professional shampoo and conditioner. I struggled with this lately, only because I was really searching for a more natural approach to haircare and that went against most of my training. I have tried a few more natural salon brands (Pureology anyone?), and was never happy with the results, they were never moisturizing without weighing  my hair down. Then I found these products and my prayers were answered. The Moisture shampoo and conditioner are amazing and leave my hair soft and manageable, without plastering it to my head. Bonus: all of their products are 100% vegan, plant derived botanicals and formulated without: DEA, Synthetic Color Additives, Parabens, Phthalates, Sodium Chloride and Sulfates.

5. OPI Nail Envy – This has been a go-to product of mine for years. I have been a long time nail biter and abuser and this is the only product that instantly fortifies my weak, brittle, peeling, splitting nails. When my nails are in good condition, I don't pick at them. Bottom line. This is the best product I have ever found that does it's job almost instantly.
PS: Do you like me on Facebook?